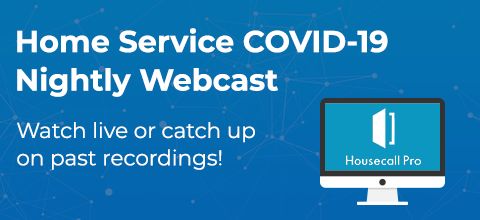 Business Basics
Dragon's Den Lane Merrifield and Housecall Pro team take you back to the basics of what running a good business means.
Watch Video
Sales Training 101
Brooks, Jenelle, and Victor from Housecall Pro review the essentials of sales and how to build a successful sales training program.
Watch Video
Reviews are more important than ever
Housecall Pro team and special guest Wade Brown from Podium discuss the importance of online reviews. Hear tips on how to manage your online reviews and generate more reviews during this time.
Watch Video
Success & Leadership advice from Mark Cuban
Mark Cuban shares his thoughts on how to succeed and lead your small business during these economic times.
Watch Video
So you got the funding, now what?
The topic of April 20 webcast is having a plan established for when you receive your PPP and/or EIDL funding.
Watch Video
How to sell with compassion during a crisis
April 16 Webcast featuring Nancy Friedman, the Telephone Doctor! Nancy shares tips on how to sell effectively while still having compassion for the current crisis we are all facing.
Watch Video
Facebook Essentials Workshop
Workshop Wednesday - Housecall Pro discusses the most important things you can be doing with your company Facebook page to help drive engagement.
Watch Video
Tax Saving Secrets in 2020
Take Care of Your Taxes Tuesday - Hear from Hal Rosen, CPA, Quickbooks ProAdvisor and tax planner along with Housecall Pro's co-founder Roland about planning your tax strategy in this crucial time.
Watch Video
Your Questions About the EIDL and PPP Loans Answered
Get that Money Monday - Housecall Pro reviews the EIDL and PPP application to help you understand why and how your should apply.
Watch Video